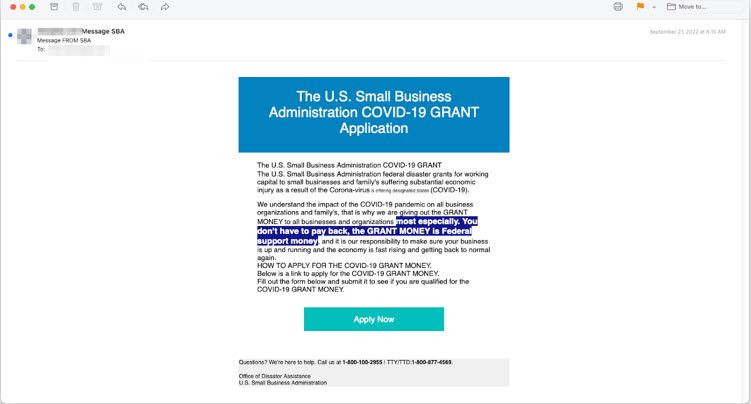 Inky reported:
INKY users received a phishing email claiming to be a COVID-19 grant application from the SBA. Unbeknownst to many, the SBA recently stopped accepting applications to their COVID-19 relief loan and grant programs.2 Still, it includes an enticing offer for any unknowing small business owner: Simply fill out the form and find out if you're qualified to receive the funds. Clicking on "Apply Now" takes recipients to a survey on Google Forms.
An Impressively Designed Credential Harvesting Form Any small business owner who had previously applied for legitimate loans and grants could be easily fooled by the form itself. The top of the form appears to be a cut-and-paste of a genuine COVID-19 grant message and the questions which follow are very similar to those the SBA asks applicants in legitimate circumstances.
Find out more with the original article
here
.
Enroll in Training Sessions: Last Thursday of Every Month is Training on Frauds and New Scam Alerts and How to Combat
Create a Free Account
Free! Authentication Training Sessions
Free! Access to Vendor Process FAQs
Free! Join Weekly Q&As
Free! Resource Library w/Validation Resources & More!

+ You're Ready to Enroll in 56+ Training Sessions