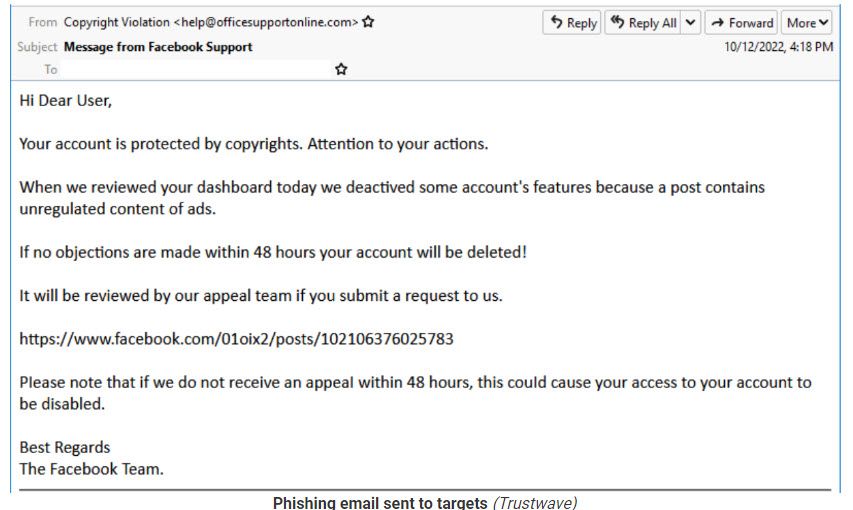 Bleeping Computer reported:
A new phishing campaign uses Facebook posts as part of its attack chain to trick users into giving away their account credentials and personally identifiable information (PII).
The emails sent to targets pretend to be a copyright infringement issue on one of the recipient's Facebook posts, warning that their account will be deleted within 48 hours if no appeal is filed.

However, this post includes a link to an external phishing site named after Meta, Facebook's owner company, to slightly reduce the chances of victims realizing the scam.

The phishing sites are crafted with care to make them appear like Facebook's actual copyright appeal page, containing a form where victims are requested to enter their full name, email address, phone number, and Facebook username.

The threat actors might collect the extra information to bypass fingerprinting protections or security questions while taking over the victim's Facebook account.
Find out more with the original article
here
.
Enroll in Training Sessions: Last Thursday of Every Month is Training on Frauds and New Scam Alerts and How to Combat
Create a Free Account
Free! Authentication Training Sessions
Free! Access to Vendor Process FAQs
Free! Join Weekly Q&As
Free! Resource Library w/Validation Resources & More!

+ You're Ready to Enroll in 56+ Training Sessions